What is your favourite rocket and why?
My favourite rocket is the Falcon 9 Block 5 as it has kicked off a new revolution in our access to space by reducing the cost per kg to orbit. My favourite configuration is with Crew Dragon as besides it's general awesomeness, it is the first crewed vehicle to truly factor in human and industrial design centric approaches to spacecraft design and interiors.
Which aerospace company do you admire the most?
I wouldn't say I have a favourite space company as there are too many awesome things happening within the industry. I think OTVs and Space tugs will be another accelerating factor in humanity's endeavour to democratise space by lowering the overall cost to orbit.
Which is the best piece of merch you've made according to you?
My favourite piece of merch I ever created was the Hellas Planitia design that comes as a poster and shirt. I spent many hours designing it with Austin Barnard. We would spend hours chatting about humanity's future among the stars, outing our creative energy into the design. It was my first design and I really enjoyed the experience.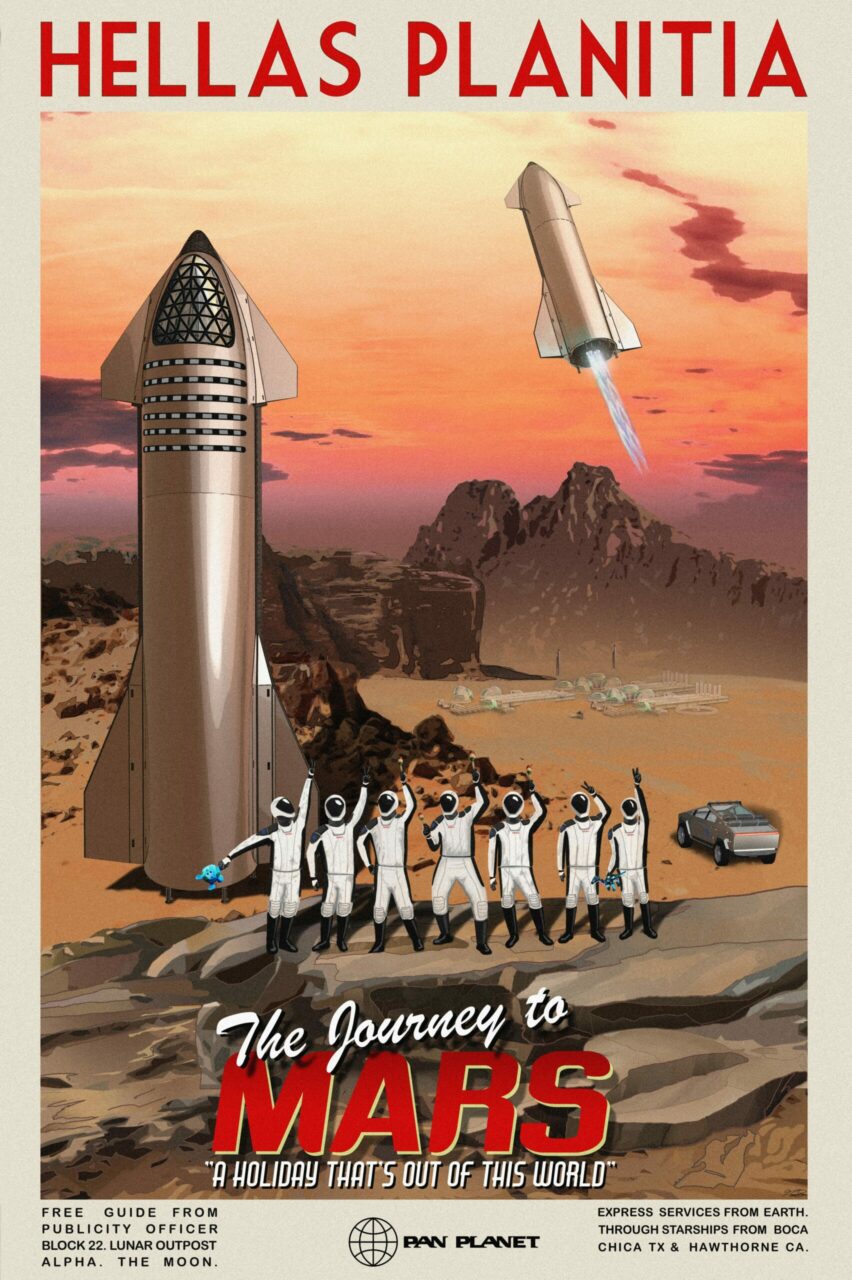 How much time goes into one merch design and are there new designs coming soon?
I strive to create the best merch possible. When we started the store, we went out to create the coolest designs out there and I think they hold up to this day. I don't put out a design unless I am happy with it myself. The graphics and artwork take a month to create.
Recently I have had less time to dedicate to creating a new collection as I now work long hours in the aerospace industry. However, I do plan on releasing some new designs soon. There is also a more substantial merchandise campaign I am creating that involves die-casting, so stay tuned for that!
Aside from space-related models, what is your favourite type of thing to design?
For as long as I can remember I spent my time daydreaming and drawing spacecraft designs and now my job is as an Orbital Transport Designer at Space Machines Company. It's been a crazy experience working with them and I am really grateful to be where I am today. Outside of designing spacecraft I like designing more traditional household and industrial products. I also have recently gotten into aquascaping which has been a fun hobby to entertain.
How was EXPO in Dubai?
Back in October I travelled to Dubai's Expo 2020 which was awesome. There was a tonne of cultural and technological attractions to visit. I learned a lot and it was awesome to see what all the countries of the world, big and small, were developing.
There were many space related technologies on show, which was awesome to see. I see sovereign space capabilities being an increasingly important capability.
How much work did you put in the Raptor model for HoppAR?
I had a lot of fun working with HoppAR. It was my first AR project and it was very satisfying to collaborate and see the final outcome. I donated my Raptor model to the apps' features. If you haven't seen HoppAR, I would definitely check it out on the App Store and Google Play!
Are you going to make an updated model for Raptor 2?
Making an updated model of Raptor 2 is definitely something I would like to do. I am looking to update my Starship assets when the design iteration slows and there is a higher degree of validation with component geometry. I would likely model a new Starship vehicle to the latest design specs. Stay tuned for more is all I can say!
Check out more episodes of Crew-Talk on our website:
Felix Schlang: https://thestarshipcrew.com/felix-schlang/
Austin DeSisto: https://thestarshipcrew.com/austin-desisto/
ErcX: https://thestarshipcrew.com/ErcX/
Follow us on social media:
Instagram: https://www.instagram.com/thestarshipcrew/
Twitter: https://twitter.com/TheStarshipCrew