Here are the long awaited answers in our FAQ with Ulrik Falk-Petersen, better known as The Daily Hopper. A rare view behind the scenes of the space communities beloved comics.
How long on average does it take to make a comic and what software do you use?
For all my comics (except the ones drawn on toilet paper), I use the iPad app Procreate. The app is super easy to get into if you want to learn to draw, and you can use it on the cheapest iPad available. Each comic takes about an hour to draw, but the ones with more complexity can take up to two.
What is your favorite comic / drawing of yours?
Oh, that is a super hard question! I have a lot of great memories from my earlier drawings, mostly because the response from the community took me by surprise and was incredibly supportive all the time. I think my favorite might be the one from the first Starship landing, when SN15 made it back to the pad in one piece. That day, there was a ton of emotions and optimism for the future, and I wish to be able to experience the same level of engagement again.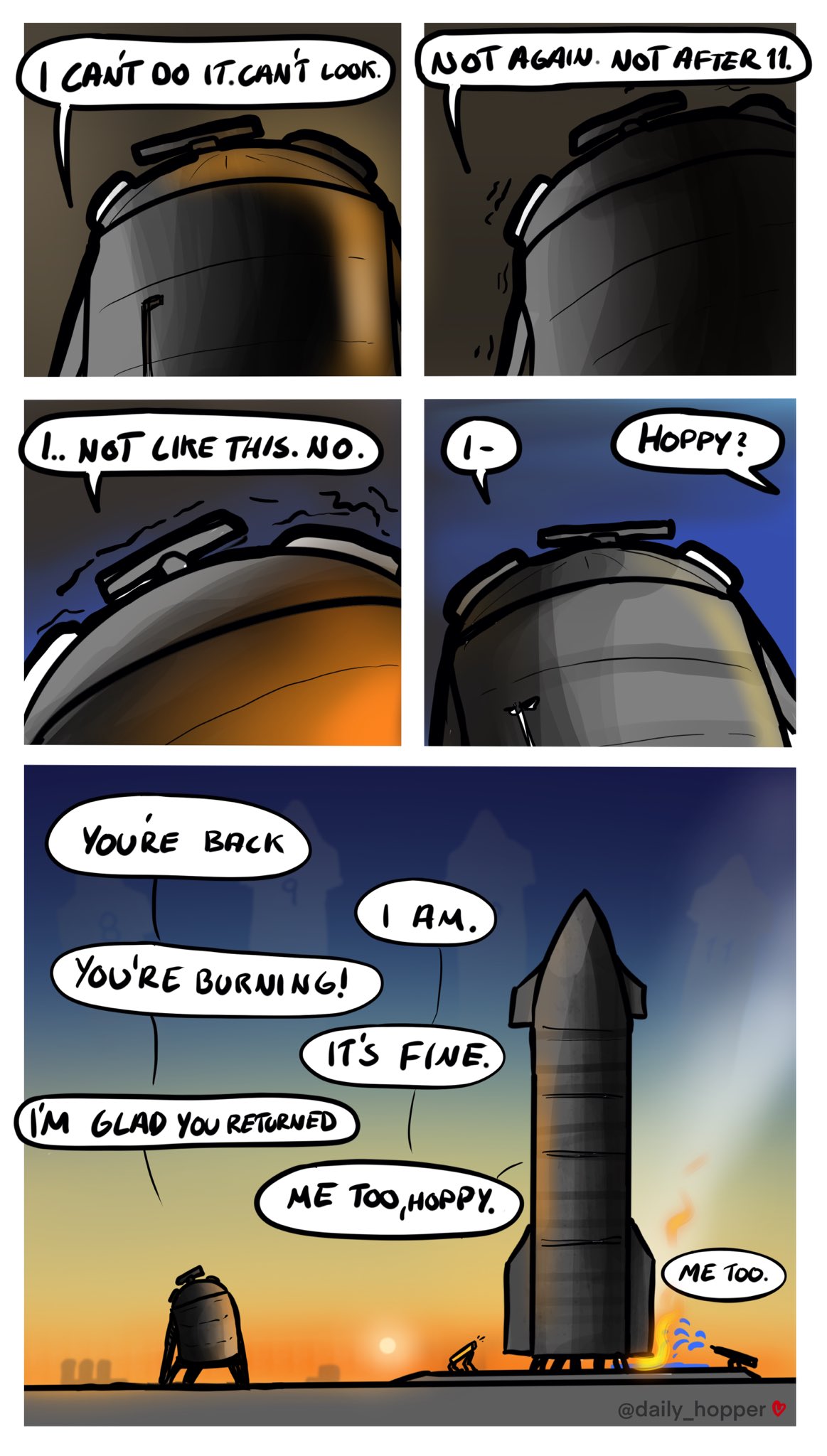 Why did you start drawing starship/starhopper. etc?
During the lockdown in 2020, there was little to do, and I was stuck inside in the rain in the notorious rainy city of Bergen. My friends and I spent tons of hours tank watching along with the rest of the space community, and I thought it would be fun to challenge myself to draw a comic a day to challenge my drawing skills. The idea for hoppy as a main character came from the SN8 launch, when my brother pointed out that it looked like Starhopper was "watching" his friends (the starship prototypes) blow up one after one. From that, the idea of Hoppy and his buddies was born, and the Daily Hopper account was created!
What brought you into the space community?
I have always loved space and science, especially after the release of Kerbal Space Program many years ago. When I started playing, I pointed the rocket at the moon and launched, but quickly realized there was more to orbital mechanics than that. The game was a great intro to spaceflight dynamics, and I kept playing it on and off up until now. The passion for space really kicked off once SpaceX started attempting to land rockets, as watching the attempts were super exciting and often had a fiery end. After that, watching each launch became the norm, dragging me even further in as the ITS / Starship program started up. Seeing Boca Chica transform from a patch of sand into a cradle of space exploration was incredible, and really gave me something to look forward to.
How many unpublished or unfinished comics are there? (if i can remember correctly u once had a older twitter accounts posting different drawings of non space stuff.) what made you stop doing it and start doing space related comics and why did you stop?
There are some unpublished ones, but most of the ones I draw are posted on Twitter. Before I started the Daily Hopper account, I drew some comics for the Squad community, a tactical shooter game on Steam. I realized quickly that being able to support and engage a whole online community was the most fun part of drawing, which made me see the possibility of drawing for the space community. Earlier, the space community has been dominated by political comics which I personally thought were incredibly boring, so therefore creating a feel-good (and sometimes sad) comic about Starbase sounded like a fun way to engage people. Turns out there was an unfilled place for colorful space art in the community, and it quickly caught on.
How do you combine the comics with your day job / What's your job at the satellite company?
I am currently the Chief Executive Officer of Orbit NTNU, Norway's largest technical student organization. The organization aims to educate students about spaceflight, and give them hands-on experience with developing, constructing, launching, and operating cube satellites. It is an incredibly fun position that allows me to learn and engage with other spaceflight enthusiasts, learn a ton about satellite development, and take part in the growing Norwegian space race. If you are a student, I would 100% recommend joining a similar technical organization if you have one at your uni, as you will gain the knowledge and experience to go straight to work in the space industry after your degree and get a ton of friends and connections for life.
Unfortunately, it is a full-time position and does not allow me to draw as much as I did before. I draw whenever I get the possibility as the space community on Twitter is one of the kindest I have ever seen, and I get a ton of super positive responses which motivates me to keep going. I really wish I had time to draw daily as I did before, but maybe some day I will get the chance to return to my roots and have daily ones. =)
Where do you get inspiration for your comics?
The inspiration for my comics comes from hours and hours of 'tank watching', reading news on Reddit and Twitter, as well as engaging with people on space Discord servers. In these days there is so much happening in the space community, so there is always something to draw about. We are incredibly lucky to live in a time where Falcon 9 flies almost every week, SLS is about to launch its first mission, commercial astronauts reaches space frequently, and of course the development of Starship and the HLS mission. Now is the absolutely best time to get involved in spaceflight, be it as an aerospace engineer or a fan.
Check out more episodes of Crew-Talk on our website:
Felix Schlang: https://thestarshipcrew.com/felix-schlang/
Austin DeSisto: https://thestarshipcrew.com/austin-desisto/
ErcX: https://thestarshipcrew.com/ErcX/
Follow us on social media:
Instagram: https://www.instagram.com/thestarshipcrew/
Twitter: https://twitter.com/TheStarshipCrew